"These mushrooms are a combination of my favorite things. They are a hit among all crowds. There are never any left!"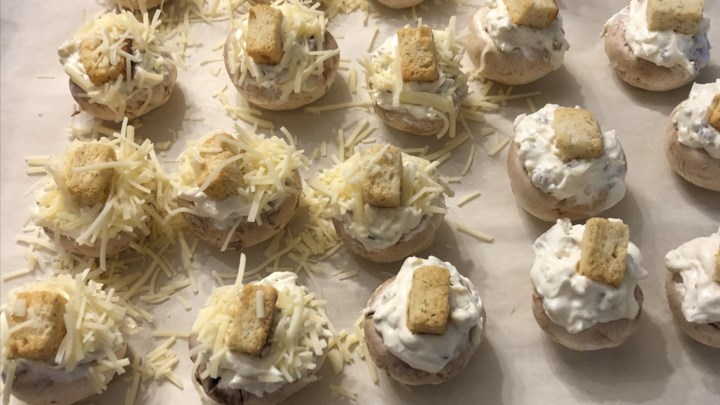 Artichoke Stuffed Mushrooms
Course: Appetizers
Ingredients
1 tablespoon olive oil

1 onion, chopped

24 mushrooms, stems removed and chopped

salt and ground black pepper to taste

1 (8 ounce) package cream cheese, softened

2 tablespoons sour cream

1 cup shredded Italian cheese blend

2 tablespoons grated Parmesan cheese

1/2 teaspoon garlic salt, or to taste
Directions
Preheat an oven to 350 degrees F (175 degrees C). Prepare a baking sheet with cooking spray.
Heat the olive oil in a skillet over medium heat; cook the onions and mushroom stems in the hot oil until the onion is translucent, about 5 minutes; season with salt and pepper. Transfer the mixture to a large bowl; add the artichoke hearts, cream cheese, sour cream, Italian cheese blend, and Parmesan cheese. Season with salt, pepper, and garlic salt. Stir the mixture until ingredients are evenly distributed. Stuff the mushroom caps with the mixture. Arrange the stuffed mushrooms on the prepared baking sheet.
Bake in the preheated oven until the filling begins to bubble, about 20 minutes.
This recipe was created by allrecipies read the full article here